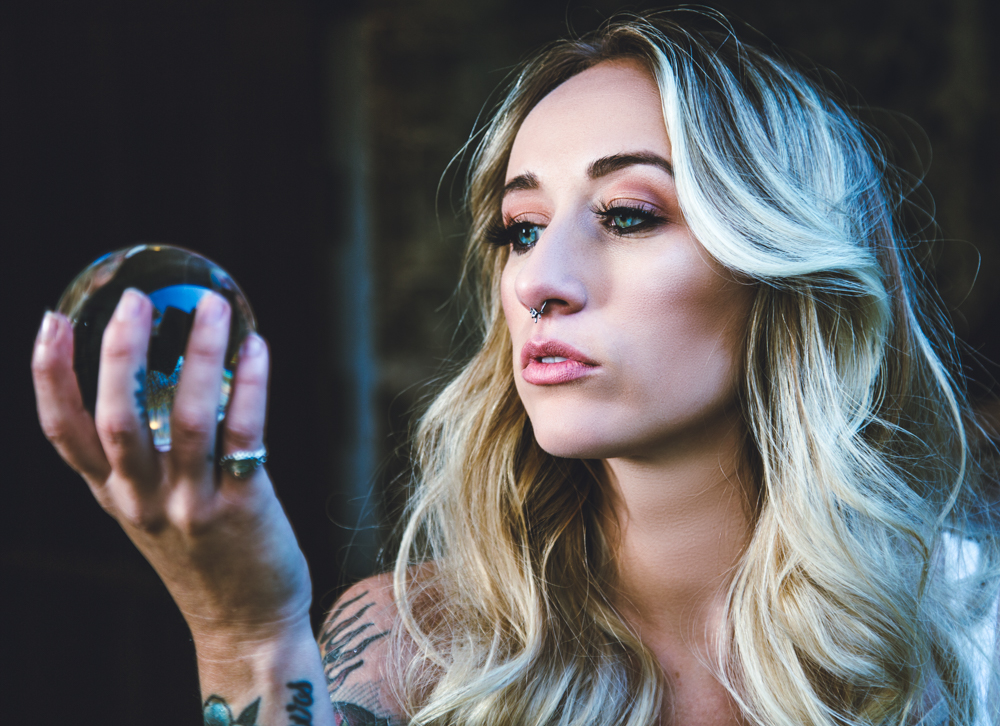 As Christmas is drawing nearer and we start to wind down with our families (or not so much if you're working over the Christmas period – I know I am with my career in the NHS) We will be staying quiet here on Marry Me Ink.
But just before I sign off until 2018, to celebrate this magical season, thrifty and eco friendly bridal wear brand Lucky Sixpence Bridal got together a coven of excellent wedding businesses for their Winter bridal shoot 'Babe With The Power' shot by wedding and fashion photographer Phil at Grey Fox Photography.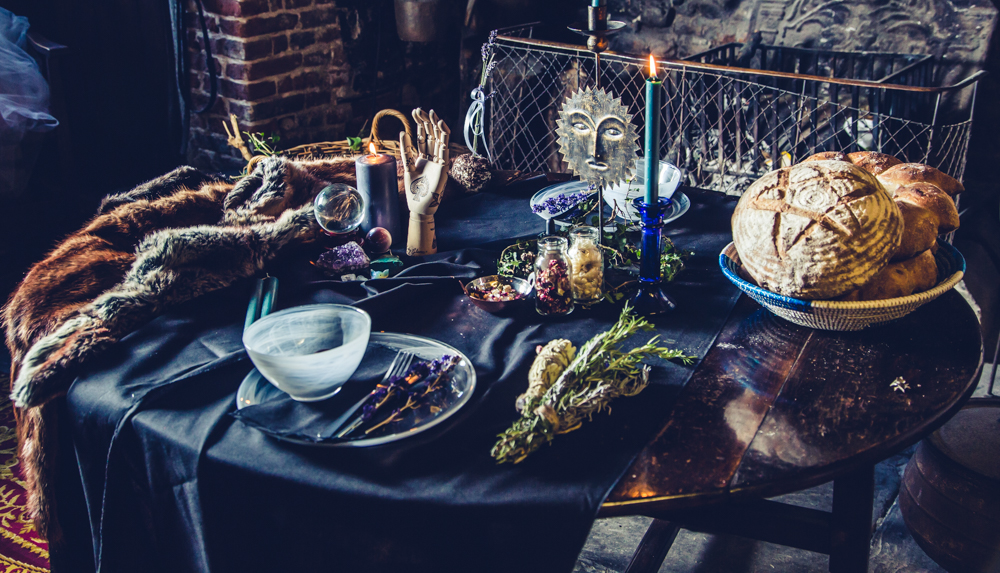 Too often the wedding industry pushes one ideal of bridal beauty and wedding style and all the wedding vendors involved in this shoot had had enough! As an alternative to the often OTT Great Gatbsy, furs and glitter themed shoots for winter brides, Anna from Lucky Sixpence Bridal and Michaela from Clear Hearts Planning took inspiration from the millennial obsession with witchyness with bath salts and sage sticks from She's Lost Control and candles from Mama Moon, not to mention the backdrop of the stunning and gothic Salmestone Grange. The outfit, boots by House of Elliot, hairpieces and veil from Mcfayden Millinery, hair by Hayley at Meraki and make up by Sasha Prebble enhanced our winter bride, Fern's natural beauty and magnetism – making her the Babe With The Power. Incredible skin products from cult US brand Witch Baby Soap such as 'Graveyard Body Oil' were used to make Fern glow ethereally and bring her look together as a sparkling white witch.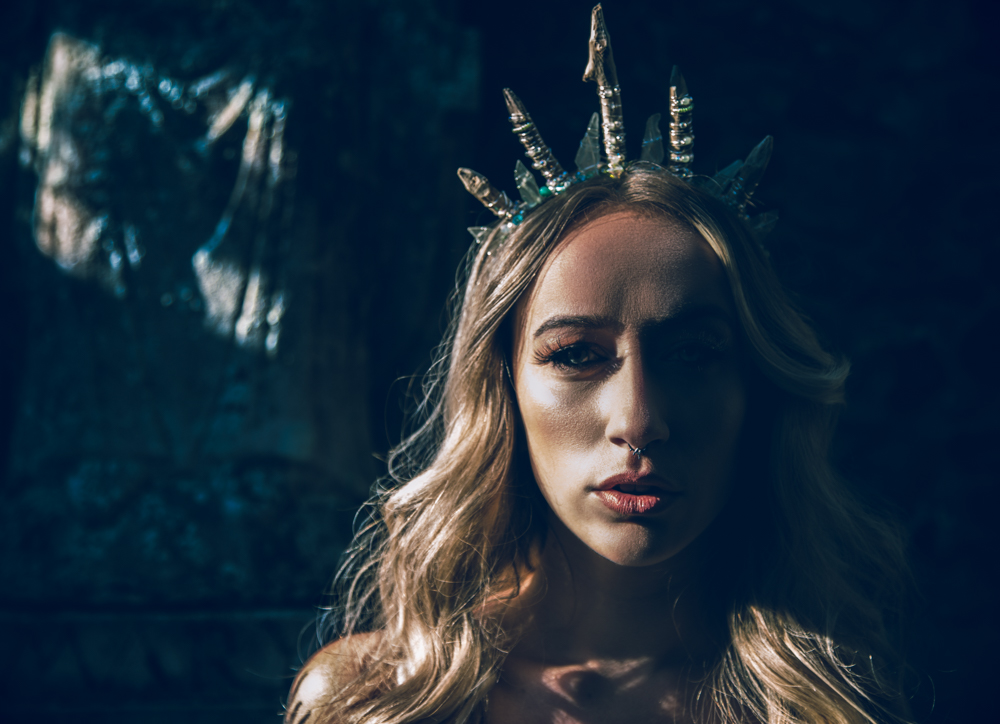 Intermingled with the theme of spirituality the shoot celebrates a number of wedding trends predicted for 2018 (maybe they used their crystal ball, no joke – there was a crystal ball on set thanks to the styling by Clear Hearts Planning) such as the amazing Practical Magic inspired cape from Born To Thread (90s goths all the way!), black accents and crystals.
Furthering the alternative take on weddings theme, the wedding breakfast and wedding cake were in the form of pagan styled 'festival bread' by Modern Provider displayed in woven baskets from La Basketry, fairytale-perfect chocolate apples and pure white candy floss from vegan treat providers Naughty Floss.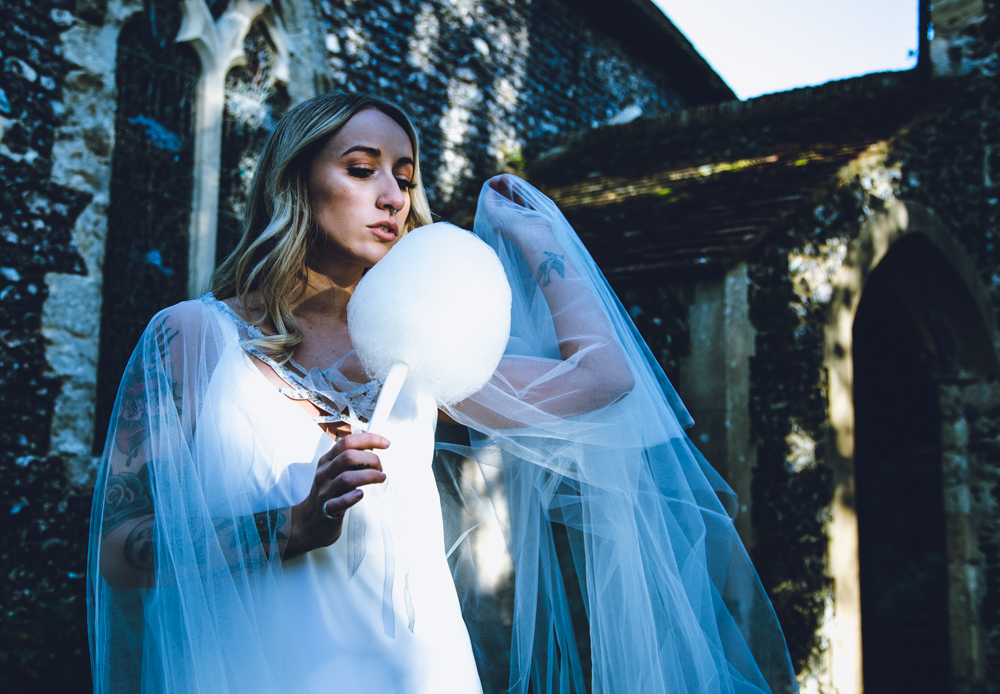 To finish this look off Lucky Sixpence Bridal approached Seeker Jewellery for their signature Evil Eye silver rings, perfect for a slightly unconventional bride and a bespoke septum ring made especially for the shoot by Alice Ruby Studio.
Capturing the day were Grey Fox Photography, Esme Deacon on video and wedding illustrator Megan from House of Love Illustration . We love the way all the ideas in this shoot were brought to life, as if by magic!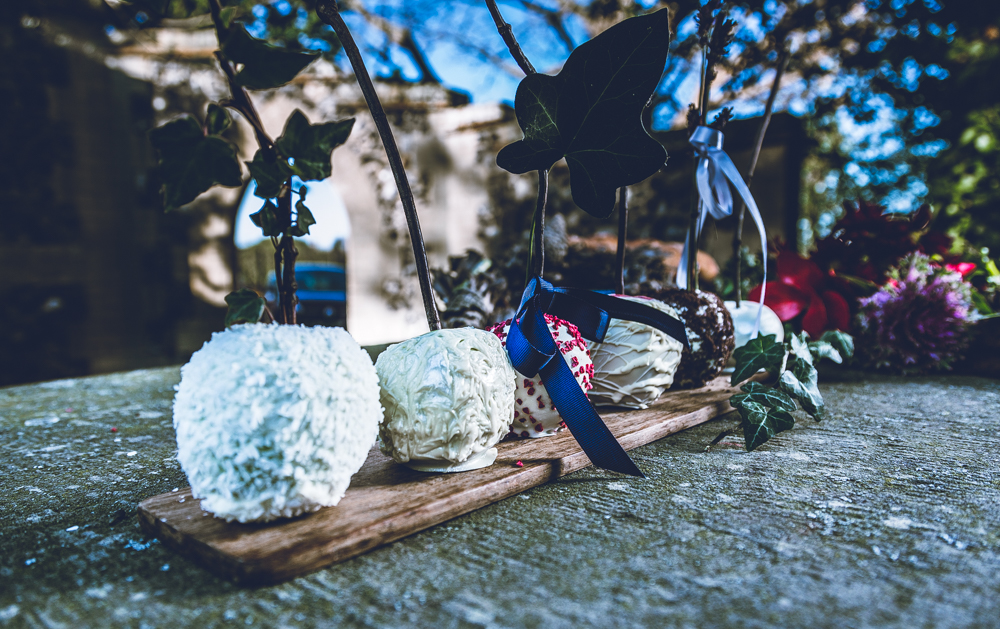 How gorgeous is this shoot? Thank you so much to Lucky Sixpence Bridal for sharing with Marry Me Ink. Merry Christmas to you all and have a wonderful New Year – See you in 2018!