Concept – Jenn Edwards
Photography – Maytree Photography
Styling – Kesali & Grey Suit Clay
Flowers – Kesali
Tableware – Grey Suit Clay
Dress Collection – Kate Beaumont
Makeup – Natty Manlove (of Jenn Edwards & Co.)
Hair – Jenn Edwards
Driftwood Headpiece – Jenn Edwards
Table stationary: Bonny and Clyde Stationary
Invitations: Wildwood Paper
Models – Megan Lindop and Katie Altoft
The concept
Being based in South Yorkshire we have an abundance of cool urban spaces and the Peak District, soaked in greens and browns, literally on our doorstep.  But, we wanted a complete contrast to our usual 'shoot hotspots'. We also wanted to do do something that would push us out of our comfort zone with the hair and makeup.  Danni Maytree knew of a beach with a blustery Cliff face and a lighthouse that would offer the perfect backdrop and add a little drama to the shoot.
The Hair & Makeup
It was no accident that our models Megan and Katie looked this good in, freezing, almost gale force winds.  We had to consider the elements when designing hair and makeup looks for them both. We've worked in extreme conditions on a few occasions now and are familiar with the effects of the salty sea air and unpredictable winds. Makeup has to be completely tear proof with enough coverage to camouflage the blue tones of cold skin and hair should be able to move freely in the wind. Stiff and structured styles do not work well on a windy beach.
Our Natty mirrored textures of the landscape with cracked gold leaf and painted freckles and I made a monster of a headpiece using driftwood and seashells.  It weighed an absolute tonne which turned out to be a huge advantage given the wind.
The Styling
We were incredibly lucky to have Justine from Kesali Flower Studio on board who created the beautiful Bouquet and table centerpieces featuring home-grown and foraged flowers and foliage, echoing and enhancing the coastal tones.  Frank E from Grey Suit Clay Grey Suit Clay joined us on location too to help with the table setting.  Her stunning tableware looked incredible – the peachy tones are created by layering up glazes on her hand-thrown ceramics, and each piece is unique. Justine and Frank E worked together to create the beautiful table setting beneath the cliffs, lit by the glow of our white pebble edged camp fire.
The Dress Collection
All of our favourite shoots, to date, have featured dresses by our favourite designer Kate Beaumont.  We love the simplicity of her pieces and luxury of the gorgeous delicate fabrics she uses.   Kate supplied three dresses that she knew would work perfectly – Amaryllis in delicious oyster silk, Hollyhock made from ivory French lace over blush pink silk, and Iris in ivory french lace and bias-cut silk. We styled the dresses with a lace trimmed cape and veil, both of which looked fantastic caught by the wind.
The Photography
Danni from Maytree Photography is one of our favourite photographer to work with.  She has a relaxed approach, nothing is too much trouble, and she directs well.  An all important factor to us is that our work is not heavily edited and colours remain true. We are very selective when it comes to working with photographers for this very reason.  Heavily edited images on Instagram and Pinterest leave many brides with unrealistic expectations of what can be achieved with hair and makeup.  It takes a very talented and experienced photographer to be able to take beauty shots like these with minimal edits.
Behind The Scenes
We faced so many challenges on the day of the shoot that it's hard to know where to begin!  The wind for one!  Carrying the contents for a full table setting along a coastal path, with steep incline, is not for the faint hearted.   We had a beautiful Wedding cake provided by one of our good industry friends SJ Cake Studio but the wind took hold of it within seconds of it leaving the car and caused damage to it.  We decided not to risk further damage and sadly didn't use it.
I bought along my pop up changing cubicle for the models to change in, but this became a bit of a hazard in the strong winds.  We needed to keep our eyes on the models and dresses at all times.  There was sea foam, spray, and debris in the air and wet sand underfoot.  I took blankets and hot water bottles to keep our models as warm as we could between shots. They were incredibly brave and are both true professionals.
I can't not mention the campfire!  Trying to get a campfire going in strong winds is nigh on impossible.  By the time I succeeded it was completely dark and you could barely see the pattern i'd formed, using white cobbles, which framed the fire.  I do love the soft glow it gave which can be seen in some of the later images though.
Tide times v sunset was a challenge we knew we'd be faced with but couldnt do much about.  We did lose all natural light towards the end of the shoot and had to make our way back up the cliff in complete darkness.
Shoots are always challenging and they take a huge amount of work, time, and effort for everyone involved but the end results are usually worth it.  We certainly weren't disappointed with the outcome of this shoot and I'm delighted to be able to share the images which are simply stunning.  I love how Danni has captured the feel of the day, with the moody skies and the rugged backdrop.  You can almost feel the wind….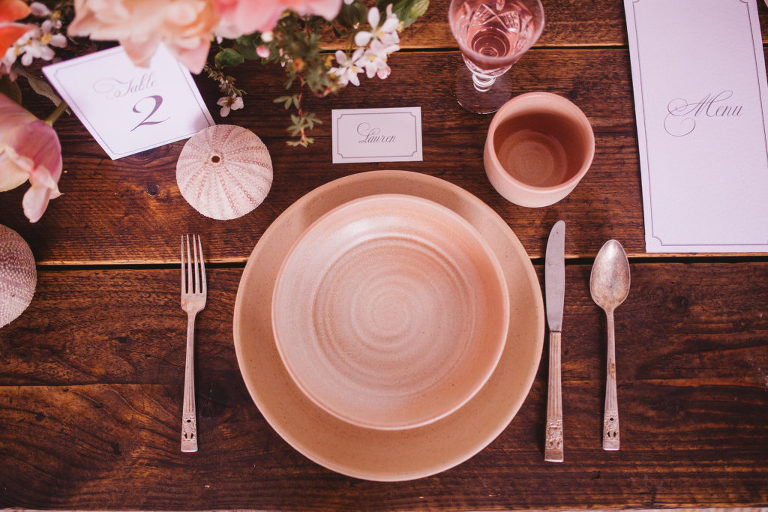 The post Bronte-esque Inspired Shoot appeared first on Edwards & Co. | Jenn Edwards.